Headphone stand with strong, stylish & sturdy design: space grey
Sale price
£18.66
Regular price
Tax included. Shipping calculated at checkout.
Product Description:
This headphone stand provides a stylish and elegant look, a perfect holder for studio headphones. As well as stylish, the product is made from aluminium alloy making it light and sturdy. The base is fitted with pads for anti-slip and anti-scratch. The top of the stand is fitted with a PU leather pad providing comfort to your headphones. Also available in Black.
When assembled
the product dimensions are:
27cm(H) x 9.7cm(Base Diameter)
Customer Reviews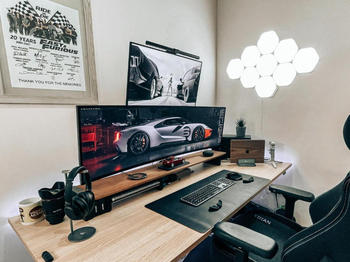 08/10/2021
So sturdy and the colour is just perfect!
I've never been a fan of headphone stands until I tried this one. It's actually made a huge difference to my setup. Previously I kept my headphones anywhere and everywhere on the setup but now they have their place on the stand. It's not only visually pleasing but it's so practical too. As for the build quality. It's exactly what you would expect from Remost. High quality material and not that cheap plastic other brands use. I highly recommend this! ✌
Panayiotis G.

Cyprus

2qwaec3r45fews